SERVICE
REPAIR
CUSTOMIZATION
MOTORWORK
POWDERCOATING
SHOW + TELL
SEE WHAT'S NEW BEFORE IT PASSES YOU ON THE STREET…
We may not have a lot of custom work to show just yet, but we have some big ideas and need you to help us! We have a few past projects to share, but can't wait to fill our portfolio [and our local roads] with some cutting-edge stuff.

1941 HD FL KNUCKLEHEAD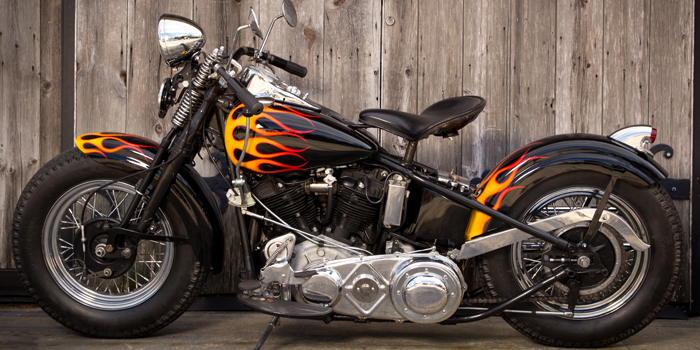 Restored stock 1941
Customized fenders
Custom paint

Featured in Hot Bike
magazine [March 2016]
Dennis Ketzes is a long-time friend and part-time employee of the shop. Over the years, I have known him to have many, many motorcycles. For three years, he had been telling me this story about a Knucklehead he bought that was sitting in pieces back in Philadelphia.
And then one day, there it was — in all it's glory — sitting on the shop floor. Boxes and boxes full.
With his help and inline with his vision, we carefully pieced it back together into the bobber-style bike you see today.
Living in Florida and dealing with our random weather, we decided not to stick with a true bobber, but rather to add a front fender that would sit low on the forks. Using only Sportster rear fenders for both the front and back, we welded and modified each to create just the perfect look and fit.
The motor and transmission were rebuilt using all NOS parts. No modifications were made to the original rolling chassis in order to maintain its authentic feel. This is that "one-kick" bike that every one dreams about!
Paint came back impeccable with an excellent turnaround time. Beautiful work and fantastic customer service by Killer Kreations in Philadelphia, Pennsylvania.
And last but not least, the most special personal touch came in the form of the seat. Once owned by the uncle of Dennis' good friend, the original 1951 Panhead leather seat was graciously passed down after his passing. RIP Bobby Lopez.

Upgraded motor from 88
to 96 inches
Installed gear-drive cams
Vance & Hines Pro Pipe 2-into-1 exhaust
Power Commander tuner
Big Sucker air cleaner
Powdercoated select parts
Custom paint
Bought at auction in Altanta, this bike needed a little work, but we decided to completely re-do it as a showcase of some of our talents. So, we tore it down and started with some small motor upgrades.
To tighten up the bobber look we were going for, we added an FL rear fender and removed the front fender altogether. We turned down the front lower legs and removed the fender ears. We then added a 16″ front wheel and 7″ headlight.
The tanks were fully customized, cutting and welding dished tanks in the style of Indian Larry. To complete the look, we went with a multi-layered 1970s style root beer metal flake with scallops paint job.

Bassani 2-into-1 exhaust
Power Commander tuner
Naked air breather
Custom paint
Originally a completely stock V-Rod that we have worked on one area at a time, this is a great example of making small changes to truly make your bike your own.
Our initial focus was adding new exhaust and tuning it to the maximum performance—resulting in 100 ft lbs (give or take) of torque to the rear wheel.
About a year later and because the customer is a life-long fan of Dallas, we proposed a new paint job that deepened the already blue tins and accentuated the silver powdercoated frame. We even threw in a matching custom-painted retro helmet!
Love or hate the Cowboys, this bike is FAST!!!